Saturday, August 31, 2013
Friday, March 22, 2013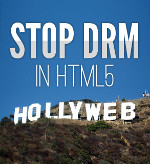 I can't believe that in 2011 people still think DRM can work for anything but limit end user choices, security and privacy. Here is an article from EFF  explaining what is going on with this on the HTML standardization front. Please join this struggle and sign EFF's petition.
In case you don't know or understand what this is all about, here is my attempt at explaining, by writing a fictional conversation between a DRM Programmer and a Technology Literate User.
DRM Programmer: I want you to buy my data (Movie/Music/Book/Game) and then be able to read (Watch/Listen to/Play) it but not copy it.
Technology Literate User: That is impossible, on computers reading is copying.
D: I will protect the data by encrypting it.
T: If you encrypt the data I won't be able to read it.
D: I will give you a decryption key so you can decrypt the data and read it.
T: If you give me the decryption key, and let me read the data, I can then write (E.g. save) it, unencrypted, to somewhere else, and therefore copy it.
Friday, May 14, 2010
Wednesday, November 28, 2007